Kolkata: In January 2008, at Jaipur Literary Festival, Dev Anand was invited to discuss his autobiography, Romancing With Life. He confessed to the august gathering, "Literature has played a strong role in shaping my life. I am an avid reader of Charles Dickens, Ernest Hemingway and Roma Rolland. My best film Guide is based on R.K Narayan's classic."
Literary festivals have grown in stature and popularity nationwide in the past two decades. The Jaipur Literary Festival is the most talked-about followed by Times Literary Festival, Hindu Literary Festival, Tata Literary Festivals and Kalinga Literature Festival. These festivals provide platforms for literary personalities from various parts of the world to interact with each other to discuss their works and for upcoming authors-poets the essence of literature.
Due to the Covid pandemic, literary festivals across the nation were either stopped or held online. It has to be agreed that offline literary festivals provide more ground for creative interaction than online.
Eminent poet Sharmila Ray whose book cover was designed free of cost by late MF Hussain says, "I have attended poetry festivals in many places of India, Europe and Vietnam. A poetry festival is part of a literary festival. Physical presence helps much more in literary discussions than online which has limitations. I am happy the coveted Calcutta Book Fair will be held from January 2022."
Literary festivals help to enlighten adult and young minds alike. Classics, fiction, non-fiction and even pulp fiction find prominence in literary festivals. V.K Karthika, editor of a reputed publishing house says, "Literary festivals are always welcome. I attend umpteen such festivals and the majority of my interactions bear fruits. The aspiring writers who attend such festivals can learn a lot from their seniors and develop their writing skills."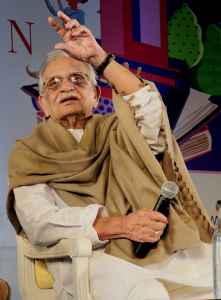 Recently many film personalities have added colour to literary festivals being present with their biographies. Waheeda Rehman once said, "My best works are literary-based i.e. Saheb Biwi Gulam, Guide and Teesri Kasam. The influence of literature broadens mental horizons and Pearl S. Buck left a great influence on me during Guide's English version."
Not that all are rosy walks in literary festivals. Many literary festivals these days have become hotspots for hypocrites who rob honest persons of their social potential. In this context, Ruskin Bond once satirically stated that James Bond was a cheat. He was the real Bond. True intellectuals admired his statement.
Sanjoy Roy one of Jaipur Literary Festival (JLF)'s organizers says, "From the end of January 2022 we will hold the literary festival physically and also online. We will adhere to all Covid norms as instructed by the Rajasthan Government then. A week later we are organizing the Kabira Literary Festival at Varanasi on a physical platform following all Covid norms."
Anjum Katyal who organizes the Nabanna Weekend Literary Festival states, "If we can hold the Nabanna Mela in 2022, March physically at Shantiniketan we will have the literary festival in the same way. Else it will be online as it was this May."
The return of classic literature is another strong point for present-day literary festivals. It is encouraging to see young readers taking a special interest in Tagore, Sarat Chandra Chatterjee, Munshi Premchand and George Bernard Shaw. Well-known scholar Antara Deb Sen admits, "Classics will always be there to enlighten fresh minds, igniting positive creative views."